In early December, a video surfaced on Twitter that showed Boo Sturgill taking batting practice. This wasn't just any regular batting practice, though. Instead of general softball attire, Sturgill was wearing no shoes and a cheerleader's uniform as she took her hacks in the cage. If she looked like she had just come off the sideline of a football or basketball game, there was a good reason for that: She did!
We recently sat down with Sturgill, who is committed to Division II Carson-Newman, to talk about her softball career and her viral video.
JWOS: Can you tell us a bit about yourself?

Boo Sturgill: I am Boo Sturgill and I'm from Wheelersburg, Ohio. I am a senior at Wheelersburg High School. I play softball for my school and the Stingrays is the club organization I play for. I'm 18 years old, my favorite color is blue, I spend most of my free time with friends and family, and I enjoy working out.
---
JWOS: How did it come to be that you found yourself taking reps in your cheer uniform?
Boo Sturgill: On a Tuesday night (December 8th) we had our first basketball game at home. Due to the COVID-19 guidelines we are only allowed 10 cheerleaders in the gym so the 10 cheering that night cheer for both JV and Varsity. I got to the gym around 5pm and headed out around 9pm. A new softball facility was just built right across the street from my high school, known as, "The Foxhole". I decided I would stop in because I'm usually there the majority of nights through the week. I didn't have my turf shoes or bat but I figured I'd stop in anyway. When I got there some of my friends were hitting and I wanted to join them. I grabbed a bat that was already there, took off my shoes, and jumped in the rotation.
---
JWOS: How has the reaction been to those videos?
Boo Sturgill: In my opinion I think a lot of people liked the video and were able to relate to it. I am hoping that people can see it's more than just a girl hitting in a cheerleading uniform. I think it shows that it is possible to do both you just have to be willing to figure out a way to do so and that goes for any sport, not just softball and cheerleading.
---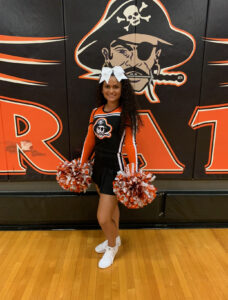 JWOS: How long have you been cheering? How did you get into it? What do you enjoy most about it?
Boo Sturgill: This year is the first time I have ever cheered. I was afraid I wouldn't have time to put the work into softball that I need to in order to be able to compete at a high level if I tried to do both. The video is proof to myself and others, if you want something bad enough you will manage your time and figure out how to fit everything in your schedule. Another reason I hadn't cheered up until now was the simple fact that I had never done it before. This is something that would make me step out of my comfort zone, but that's what I enjoy most about it. I think it is good to be challenged or to feel uncomfortable because if everything I do is something that I'm comfortable with I wouldn't grow as an athlete or as a person. Pushing yourself to try new things and not be afraid of failure is the only way to truly succeed. If I didn't do it because I was afraid to fail then I never would have made the team or have gotten the amazing opportunity to form bonds with all of my teammates and coach. I wanted to be part of the cheerleading squad because I would always see how much fun they were having at the football and basketball games; so I decided to give it a shot and tried out for the team back in April. 
---
JWOS: Do you participate in any other activities?
Boo Sturgill: The activities I participate in at my high school are softball, cheerleading, Key Club and National Honor Society. 
---
JWOS: I see you are committed to Carson-Newman University, congratulations! Can you tell us a bit about your recruiting journey and why you chose Carson-Newman?
Boo Sturgill: Throughout my recruiting journey I went on visits to different schools, but none of them felt like home as much as Carson-Newman. The coaches are amazing, the sports facilities are top notch, and the softball team is known for their winning record. The reason I chose Carson-Newman is because I wanted to go somewhere I could immediately contribute to the team and make a difference. I am looking forward to being an eagle next year and continuing the winning tradition.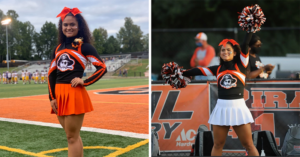 ---