San Diego State slugger Jenavee Peres will not play in the 2018 season.
A school spokesman confirmed that Peres will take a medical redshirt for the year, but did not disclose the reason for the distinction.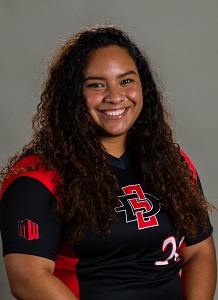 Peres, in what would be her true senior season, was a preseason favorite for the Mountain West conference's Player of the Year award after winning the award in 2017, when she hit .454 and clubbed sixteen home runs. Peres was named an all-American (second team) after the 2017 year, the first such honor of her career.
Through the first three seasons of her career, Peres holds a .409 career batting average and has hit thirty-four home runs with 131 RBI and a career .743 slugging percentage.
Freshman backstop Alizae Umi started behind the plate in the Aztecs' 2018 season-opener on  Thursday; the SDSU roster also lists junior college transfer Anna Sherburne as available behind the plate in Peres' stead.