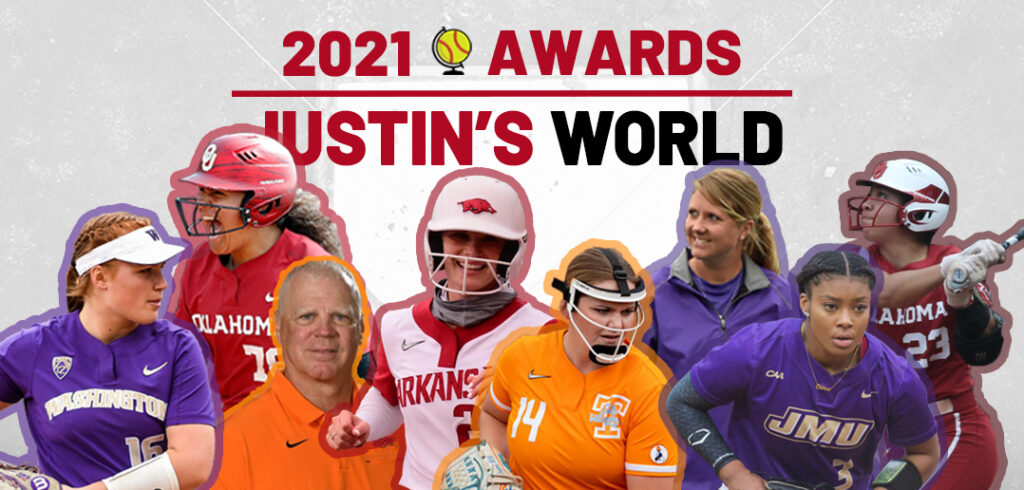 In addition to Player of the Year, contained herein are winners of each of the following awards:
Pitcher of the Year
Coach of the Year
Freshman of the Year (limited to true freshmen)
Assistant Coach of the Year
Comeback Player of the Year
Breakout Star of the Year
See below for write-ups on each award winner!
PLAYER OF THE YEAR
Oklahoma slugger Jocelyn Alo earns Player of the Year honors after a sensational season at the plate. Alo hit her 30th home run of the season during the Super Regionals and enters the Women's College World Series sporting a .487 batting average with 76 hits, 82 RBIs, and a 1.135 slugging percentage, in addition to the eye-popping home run numbers. She's also a perfect 3-3 in stolen bases and perfect defensively with a 1.000 fielding percentage. An absolutely incredible year has also seen her earn 34 walks and strike out just 14 times.
Also Considered: Odicci Alexander, James Madison; Sammey Bunch, Northern Iowa; Braxton Burnside, Arkansas; Valerie Cagle, Clemson; Rachel Garcia, UCLA; Bailey Hemphill, Alabama; Tiare Jennings, Oklahoma; Dejah Mulipola, Arizona; Gabbie Plain, Washington
PITCHER OF THE YEAR
Washington's Gabbie Plain is our Pitcher of the Year. Plain put up possibly the most impressive performance of her career this season, helming a pitching staff that didn't deliver as expected and taking on a heavier workload as she led her team to a 2nd-place finish in the PAC-12 and a Super Regional berth. Plain finished the year with a 1.45 ERA, 32 wins, and a 0.82 WHIP. She pitched 237 of her team's 374 innings on the year, held opponents to a .174 batting average, and recorded 337 strikeouts which finished top-3 in the nation.
Also Considered: Odicci Alexander, James Madison; Valerie Cagle, Clemson; Georgina Corrick, South Florida; Carrie Eberle, Oklahoma State; Montana Fouts, Alabama; Rachel Garcia, UCLA; Keely Rochard, Virginia Tech; Ashley Rogers, Tennessee; Courtney Vierstra, Miami (OH)
COACH OF THE YEAR
The 2021 JWOS Coach of the Year is James Madison's Loren LaPorte. LaPorte guided the Dukes to a regular season showing where they lost just once, then navigated the program through the CAA tournament and one of the nation's toughest regionals as the regional 3-seed. The Dukes upset a pair of top-30 RPI teams in the regional round, including the hosting Tennessee Lady Vols. In the Super Regionals, LaPorte's squad took the best-of-3 series from the Missouri Tigers in Columbia to advance to the program's first-ever Women's College World Series. The Dukes own a .317 team batting average with 66 home runs, as well as a team ERA of 1.53 and 355 pitching strikeouts, as they enter the WCWS on Thursday.
Also Considered: Larissa Anderson, Missouri; Kristi Bredbenner, Wichita State; Courtney Deifel, Arkansas; Patty Gasso, Oklahoma; Jamie Pinkerton, Iowa State; Dot Richardson, Liberty; John Rittman, Clemson; Krista Wood, South Dakota State; Ricci Woodard, Texas State; Marissa Young, Duke
FRESHMAN OF THE YEAR
Only true freshmen were considered for this award, and the running-away winner was Oklahoma's Tiare Jennings. Jennings has been a crucial part of the Oklahoma offensive onslaught this season, as she ranks third on the team with a .485 batting average and second on the roster with 25 home runs. Jennings has started every game for the Sooners and leads the team in at-bats. She has collected 22 doubles on the year, nearly twice as many as her next-closest teammate, and also leads the squad in RBIs with 84.
Also Considered: Addison Barnard, Wichita State; Alyssa Brito, Oregon; Erin Coffel, Kentucky; Jayda Coleman, Oklahoma; Tori Kniesche, South Dakota State; Olivia Lackie, South Alabama; Jenna Laird, Missouri; Shelby Lowe, Auburn; Carlie Scupin, Arizona
COMEBACK PLAYER OF THE YEAR
The only award that ended with a tie in the voting, the Comeback Player of the Year virtual trophy is shared by Tennessee pitcher Ashley Rogers and James Madison dual threat Odicci Alexander. Rogers missed much of the 2020 season due to injury, but returned in 2021 and fought through some continuing injuries to help lead Tennessee to a semifinal berth in the SEC tournament and the overall 9-seed in the NCAA tournament. She finished the year fifth in the country in strikeouts and wins, and led all SEC pitchers in both categories, as well as ERA as she posted a 1.26 mark.
Alexander played in just eight games a year ago before missing the remainder of the year, but returned for her "super senior" year in 2021 with a vengeance. Her season's numbers, to-date, include a 1.14 ERA, 16 wins, and an opponent's batting average of .138. She owns 186 strikeouts on the year in 117 innings of work and boasts a strikeout/walk ratio better than 5/1.
Also Considered: Elissa Brown, Alabama; Giselle Juarez, Oklahoma; Sierra Lange, George Washington
ASSISTANT COACH OF THE YEAR
Oklahoma State pitching coach John Bargfeldt is the recipient of the Assistant Coach of the Year award in 2021. In his first full season as the Cowgirls' pitching coach, Bargfeldt tutored the staff to new heights and helped them guide the program to its second Women's College World Series berth in as many years. Led by Carrie Eberle and Kelly Maxwell, the Cowgirl staff owns a 1.80 ERA on the year with a staff WHIP of 1.15. Eberle has thrown nineteen complete games this season in 31 appearances, while Maxwell has made 26 appearances and Logan Simunek has seen the circle 22 times. The Cowgirls have allowed just 96 earned runs in 373.2 innings of work, and have held opponents to a .202 batting average against them. The staff has collected 349 strikeouts to go along with 149 walks, a strikeout/walk ratio better than 2/1.
Also Considered: Jennifer Brundage, Michigan; Jodie Cox, Fresno State; Rich Dillinger, Iowa; Elizabeth Economon, Wichita State; JT Gasso, Oklahoma; Jeff Harger, Arizona State; Kristine Himes, Kentucky; Chris Malveaux, Missouri; Craig Snider, Texas A&M; Morgan Zerkle, Miami (OH)
BREAKOUT STAR OF THE YEAR
Arkansas slugger Braxton Burnside is the Breakout Star of the Year for 2021. After sitting out the 2019 season following an in-conference transfer, Burnside batted .392 during the shortened 2020 season with five home runs. In 2021, though, she truly found her groove at the plate and finished the year with a .357 batting average and 25 home runs. She emerged as one of the game's top sluggers this season, as she also recorded 54 RBIs and an .892 slugging percentage. Each of her numbers led the Razorbacks' roster during their own record-setting year at the plate.
Also Considered: Odicci Alexander, James Madison; Maddi Hackbarth, Arizona State; Elizabeth Hightower, Florida; Tiare Jennings, Oklahoma; Kandra Lamb, Louisiana-Lafayette; Bailey Lange, Wichita State; Haley Lee, Texas A&M; Mack Leonard, Illinois State; Autumn Pease, Minnesota