Wow. What a whirlwind these past two months have been. I am BEYOND sorry for not keeping you updated as much as I wanted two. AKA time to catch up.
Our FSU softball team was honored with the 2018 NCAA National Champion FSU soccer team at the Florida State President's House as well as the Florida Governor's House back in March. Both were extremely fun events and we are so thankful for the opportunity. Spring break (wow it has been long) was an extremely fun week with the team. We played a lot of competitive games and we spent a lot of time as a team. Our head coach even took us to Urban Air. Although we were surrounded around 6-12 year-olds we had a blast!
As for our games, we have been riding the highs and the lows. We started off ACC play excellent. We had great series against Notre Dame, NC State, and Virginia along with an awesome win on the road at Florida. Then came the "post-UF hangover". We dropped series to Louisville and UNC along with a loss to UF at home. ROUGH. Although we did lose a fair share of games, it taught us SO much about ourselves and about Team 36. We learned how to fight back. We learned not to make the moment or a team bigger or smaller than what they are. Most importantly, we learned to enjoy the game. Coming off of a national championship win and a heck of a start on the 2019 season builds pressure. Pressure is a privilege, but we got away from doing some things that we do best. Personally, I think we got caught up in the fear of failure. Overall, that stinks because that is something that WE CAN CONTROL. You can't be afraid to fail, because it will consume you. The worst part is that all the hard work you have put into building your craft is stripped away because of your mentality. Overall, I am proud of the way the team has bounced back. We are beyond ready to attack every pitch throughout the rest of the season.
Our last home series against Duke was an extremely emotional weekend. Five years after I arrived in Tallahassee, it was finally time for my senior weekend. It was an incredible week and I know every senior felt so unbelievably loved. This program has done everything for us and more. It has shaped us in to strong, resilient, and passionate women. Our coaches are truly the best in the entire country. They have not only helped us grow into better athletes, but as better people. I know that I can speak on behalf of the senior class knowing that we did everything in our power to leave Florida State better than we found it. That was the standard that our upperclassman left us with and I can only hope that we have left the same mark the our teammates today.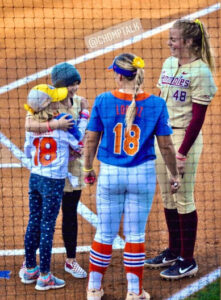 HAYDEN. She is killing it. Just finished chemo treatment 16 out of 20. ONLY FOUR MORE! She had her final surgery and the results came back that she is CANCER FREE!!!!! Go Hayden Go! I am been getting a lot of questions about why the team wears the red smiley faces on our necks… so here is the answer. After surgery, Hayden sent me a video not very ecstatic about the huge scar that the surgery left on her neck. I was trying to cheer her up so I sent a few pictures of baseball pitchers who have gotten Tommy John surgery turn their scars into smiley faces or laces on a baseball with a tattoo. I told her I could turn that scar into a smiley face and I to would wear one to match her until she finishes chemo. She loved the idea! That next day we drew the smiley faces on each other. When the team had seen the smiley faces, everyone wanted one! SO COOL! Even UF softball wore the smiley faces when we played them in honor of Hayden! UF softball also adopted a sister from the Friends of Jaclyn Foundation, and when we played them, Hayden and Hartley (UF's new little sister) were able to meet. Both teams did a lot to promote pediatric cancer and FOJ. The coolest part about the game was that another child was put on the FOJ map and was able to be adopted from the program. It is so awesome that two rival teams could be brought together by something so much bigger than the game.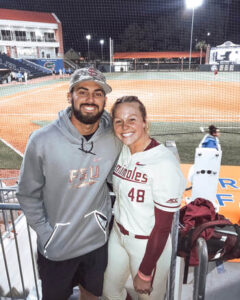 As for my personal life, I am officially an alumnus of Florida State University. I have decided to move to Sarasota, Florida after season is over and hopefully start nursing school at the end of August (fingers crossed I get in). My boyfriend, Dylan, has been having a great season so far and I cannot wait to meet up with the other girlfriends/fiancés and support him in person once season is over.
During the last few weeks, I have had a few super fun adventures. I was able to fly home and surprise my sister, Kaitlin, at her high school softball senior night. ​(photo below) I was able to FINALLY make it to the Flying High FSU Circus. This was something that I have wanted to do for the past five years and BOY was it worth the wait! I crushed finals and started a healthy lifestyle meal prepping change. All in all, it's been an amazing last few months of college. I cannot wait to see what postseason and this summer has in store for me.
The previous blog post had no questions in the comments, but remember that if you have any questions, feel free to comment below.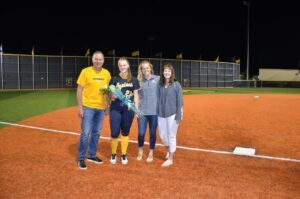 Coming soon… ACC/NCAA postseason, summer adventures