Jeff and Sara Moulton, a father-daughter duo from Eagan, Minnesota, have spent a lifetime together on the dirt.
Sara was dominate in the circle her entire career; breaking every record at Eagan High School, becoming an All-American at the University of Minnesota, and winning two NPF championships with the Chicago Bandits. All the while with her father, Jeff, by her side …or on a bucket.
So when Sara was planning her wedding she knew another memorable softball moment with her father, on her college alma mater's campus, was a "must".
---
JWOS: How did the idea of a "Dad-Daughter First Catch" come to be? Who presented the idea to who?
SM: I believe I was the one who came up with the "First-Catch" idea! Playing catch and going out to pitch was always my dad and I's thing. I wanted to do something special and meaningful to both of us on my wedding day, so of course it needed to be something softball related!
JM: I think it was Sara.  She knows how much I love to DANCE.  This was my out. Kate and I were going to expand on the concept.  We were going to have Goldy (the University of Minnesota's mascot) interrupt the father/daughter dance at the reception and bring us our gloves so we could celebrate the way it was meant to be!!  True story but COVID put the kibosh on that.
---
JWOS: Can you explain what it felt like to have a catch with your Dad but also on Minnesota's campus?
SM: It meant the world to me, to have that special moment with my dad before the wedding ceremony. It took me back to when we played catch and pitched all the time when I was a kid, just the two of us. It was pretty surreal to have my last catch and pitch as a Moulton, with my dad, on my college campus!  Go Gophs!
JM: I was all smiles!! It was a special moment for sure. Little cold since we did it outside on the "U" campus in December.
---
JWOS: Did either of you chuck a throw?
SM: I laughed when reading this question! No one chucked a throw, however, my dad did drop one of my pitches. He was so bummed! The drop ball tends to come out every once in a while still! 😉
JM: I botched one low throw due to my suit grabbing my arms.  A suit is probably a little too formal for a catch.
---
JWOS: Thinking back over all the years and softball hours spent together. How did this rank?
SM: This was definitely at the top of my list. My dad spent 17 years on a bucket catching for me and 20+ years as my throwing partner. I owe him so much, and I was happy we were able to make another special softball memory together!
JM: Right up there.  We spent an awful lot of time together when she was coming up and this was a fitting end to the experience.
---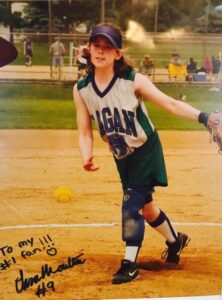 JWOS: What are some of your favorite softball moments with one another?
SM: Where do I begin? From the hours on hours of practices, to the long car rides home after tournaments near and far, to coming to nearly all of my travel ball, high school, college, and when he could, Pro games, my dad always has been and continues to be my biggest supporter.
When I was 10, I gave my dad a signed photo of me pitching and made it out to "my #1 fan". He kept it on his office desk for my entire playing career.
I always wanted to make him proud. He and my mom both put in so much time, energy, and made sacrifices, so that I could live out my dream on the softball field. I am forever grateful for both of them.
JM: The travel was great.  We went to so many places.  It was fun watching her develop.  She took a lot from the game and grew up into a fine person and role model for our softball community.  Her mom and I could not be prouder.
---
JWOS: You have been a driving force in Moulton's softball career. Thinking back, when did you know Sara had the talent to play at a high level?
JM: I would say it was a culmination of events I guess.  She kind of just kept rising to the occasion as she branched out and played upper levels of softball outside MN.  I kind of knew there was something going on when she would play dome ball at a very early age and dominate the high school teams around the area as a middle schooler.  I truly believe she arrived when the Gophers beat Michigan 1-0 in game one of her sophomore season.  I think that is when we all knew the (Jessica) Allister program had arrived as well.
---
JWOS: Best piece of advice you can give other softball dads and daughters out there to make the most of their experience together?
SM: Enjoy every moment. There will be good days and bad days. Stick together through it all. Remember you are always on the same team and share the same goals. Softball will only last for so long, but the bond you form as dad and daughter will last forever.
JM: Practice…and when you think you have practiced enough, practice some more.  The game is so mental and I feel that that is often overlooked.  A parent needs to know when to push and when to back off.  Keep it fun.  Sara practiced more than anyone I know and we did all we could to keep it fun and competitive.  Little games were our trick as Sara was ultra-competitive so that kept her interested. At some point, just sit back and enjoy it. Learn to be a fan.  It is a great game and  fun to watch. And the game probably keeps a lot kids out of trouble when you reflect back on it. There are so many life lessons learned as a player grows in the game.
---
Sara Moulton owns and operates Strike Zone Sports in her hometown of Eagan, MN. You can learn more about the facility, here. 
Photographs by Julie Greer Photography
https://juliegreerphotography.pic-time.com/portfolio
Videography by Will Parker
https://www.youtube.com/watch?v=s3ue35WQxB4