Hi everyone! Sorry it has been a few weeks without a post, but I promise to catch y'all up by the end of this one. The St. Pete/Clearwater Elite Invitational in mid-February was a tournament to remember. Huge shoutout to Meg Aronowitz, Holly Rowe, Michele Smith, Beth Mowins, Amanda Scarborough, Danielle Lawrie, Kayla Braud, and many more that helped make that tournament happen. Softball on ESPN in February!? Without these women and everyone else dedicating their time to grow this sport, we softball athletes would not be in the position that we in are today. ​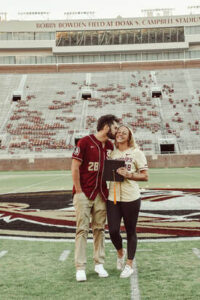 The competition was TOP NOTCH and every single game we played was an absolute dogfight.  Since the tournament was in Florida, many of my family members attended the games. My boyfriend, Dylan, was even able to make very single game I threw while driving back and forth from spring training. I am beyond blessed with the support system I have. Needless to say, this inaugural ESPN tournament was incredible and as an alum, I will definitely be making the trip to go back next year and cheer on my Noles!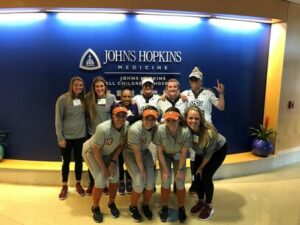 ​During the St. Pete/Clearwater Elite Invitational something extremely special occurred at the John Hopkins All Children's Hospital. Almost all of the sixteen teams attending the tournament were able to take time out of their busy schedules and come share some smiles with the children at the hospital.
This visit was possible because Michele Smith and I teamed up with Katrina Mason and other All Children's staff members. The idea first came about when I was at the hospital touring. The ESPN tournament was brought up and I found out that Michele Smith wanted to tie the two subjects together. I thought it would be awesome if some of the girls participating in the tournament would want to come out the hospital. Late last year I organized many visits between FSU athletics and the local Tallahassee Memorial Hospital, so I thought to myself, "How hard can this be?" I found the rosters of the sixteen teams participating and picked a girl from each team. I then went on Instagram and asked them if they would be interested in participating. The feedback was outstanding! Every team wanted to visit and each was extremely helpful with getting me their schedules to me to find a date. I relayed the information to Michele and Katrina and rest was history. The All Children's staff was extremely accommodating and the smiles on the children's faces were unforgettable.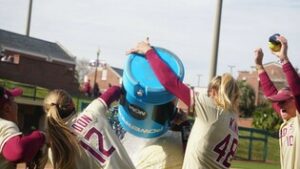 The following weekend we hosted the Unconquered Invitational. The tournament included games against Elon, Lipscomb, and Samford. I was very pumped for our game against Elon because my sister signed her Letter of Intent this fall to attend the university after she graduates high school this spring. Coacha (our head coach) also received her 500th win as the head coach at Florida State. Woohooo Go Coacha!!! I honestly wish everyone had the opportunity to play for a coaching staff as amazing as ours. Hayden was also extremely pumped for this weekend because she does not travel with us. Therefore, she was back in the dugout cheering us on! She is also kicking her cancer's butt and is finished with all of her hardest chemo treatments. Woohoo Go Hayden!!!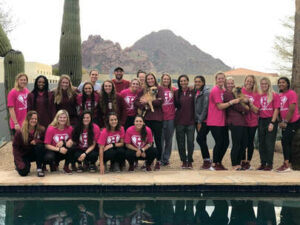 Our last series of games that I have to catch you up on was our eleven-day road trip. WOW talk about team bonding. There really is nothing like spending 11 days straight with 22 girls. The trip started in Orlando, where we played a tournament against UCF, and it ended in Arizona where we played a doubleheader at Grand Canyon and a three-game series at the University of Arizona. Playing in Orlando was awesome because once again I was able to see my family, friends, and boyfriend. The weather was also spectacular and we competed against some really good programs. Personally, Arizona didn't start off on the best foot because we dropped our first game all season to GCU. I didn't throw very well, but no one is perfect and because of that loss, I know I will be better for my team in the long run with the things I learned from that game. Before the bus ventured to Tucson, Arizona, we got a chance to have breakfast with our mental coach, Brian Cain. He opened up in his beautiful home to our team and we got to meet his amazing wife and the French Army (his two French bulldogs). It was a great check-in for the team and for me personally. Our heads were clear and our stomachs were full and we were ready to drive to Tucson. Arizona is a legendary program and they scheduled their alumni weekend for our series. Their new stadium was ELECTRIC and it was an amazing atmosphere to play in. I am beyond proud of our team and the fight that we carried throughout the road trip and our season so far.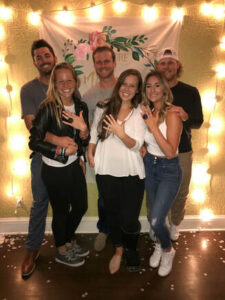 As you can see it has been a very softball-filled last few weeks. Therefore, not much has happened in my personal life. Anatomy Physiology II (the only class I am in) is going great, I can't believe I am already more than half way through the semester. I ended up not being able to work as a CNA in the Children's Center because by the time they trained me, my time in Tallahassee would have almost been over. On the bright side, I was able to sign up as a volunteer and I am back in the Children's Center helping out the Child Life Specialist. I am very thankful for Tallahassee Memorial Hospital to still give me an opportunity to receive hospital experience. I celebrated three years with my boyfriend Dylan and although I will not see him much the next few months, I am pumped to start watching him play again. Two of my best friends recently got engaged. Shout out to Lex and Hallie. They are my best NARP (Non-Athletic Regular People) friends. Therefore, I am taking on lots of pitching lessons so I can save up to celebrate their engagement and weddings this coming year.
The only question I received this week was something about how Carsyn's bat broke. Unfortunately, I really do not know anything about what bats are made of, but we do have a trip to Louisville in the upcoming weeks and I will try to get you an answer there. Remember, if you have any comments, questions, or concerns, feel free to comment below.
Coming soon… ACC Play, Spring Break, and Alumni Weekend