Former Little League World Series viral star Mo'ne Davis has committed to play softball at Hampton University, beginning in the fall of 2019.of 2019.
Davis' commitment was announced on Tuesday. In 2014, Davis made national headlines when she helped lead the (Philadelphia, Pa.) Taney Dragons to the Little League World Series in Williamsport, becoming just the fourth American girl – and the 18th girl in international play – to appear in the LLWS.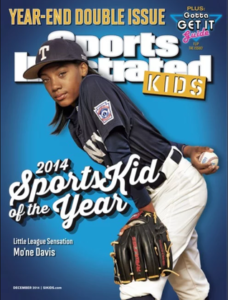 During the 2014 tournament, Davis' fastball was clocked at 70 and 71 miles per hour. In a shutout victory over the Nashville team, Davis became the first-ever girl to earn a win in the LLWS, striking out eight batters in six innings to earn the "W".
Following her viral rise to stardom, Davis appeared on the cover of Sports Illustrated and appeared on The Tonight Show with Jimmy Fallon. In 2015, she released a memoir entitled "Mo'ne Davis: Remember My Name" 
​
According to a report from the Philadelphia Tribune, Davis chose Hampton in part because of the university's communications department. Other schools reportedly under consideration by Davis before her commitment included Bethune-Cookman; Coppin State; Massachusetts; Penn; and Southern.
Hampton head coach Angie Nicholson told the (Newport News, Va.) Daily Press that Davis will play the middle infield and does not pitch in softball. Hampton posted a ​24-28 overall record during the 2018 season, including an 11-7 mark in MEAC play. The 2019 season will be the program's first as members of the Big South Conference.