​Hi everyone! My name is Meghan King, and this is Kinger's Korner. I'm really excited to do a blog this year and I want to take you all with me on the journey of the 2019 Florida State Seminoles. I'll check in throughout the season with stories both on and off the field and of the joys and struggles of being a college student-athlete.


For those that may not know much about me, I am a redshirt senior pitcher on the Florida State softball team. I was born in the southern suburbs of Chicago and continued to live there until I was 12 years old. My family then decided to move to south Florida and I have lived there ever since. I am beyond thankful for my family, especially for my parents. My dad, Mike, is the most hard-working man I know. He has raised me to be strong, competitive, passionate, and confident. On the other hand, my mom, Karen, is the most selfless woman I know. She has raised me to be positive, compassionate, honest, and disciplined. I am also extremely close to both my brother and sister. My brother, Ryan, is in his junior year at Stetson University. He is a Business and Finance major who just came back from studying abroad for a month in Austria. My sister, Kaitlin, is a senior in high school at St. Thomas Aquinas in Fort Lauderdale. She recently signed her letter of intent to play softball at Elon University. Our last member of the family is my wiener dog, Oliver. He lives with me at FSU and is the best cuddler in the world. I am a Family and Child Sciences major with a minor in Psychology and a certificate in Developmental Disabilities. After graduation, I am going to apply to accelerated nursing programs, with the hope of becoming a pediatric oncology registered nurse. I am also a member of the Puerto Rico National softball team and hope to go to the 2020 Olympics in Tokyo.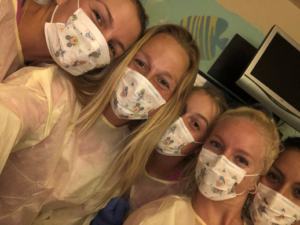 ​I am only enrolled in one course this semester, Anatomy and Physiology II. I was planning on a light semester to focus on my last season, but anyone who knows me knows that I like to keep myself busy. Therefore, I enrolled in an online CNA (Certified Nursing Assistant) program to jumpstart my nursing career and give me a little bit of hospital experience before I start my clinicals. I also am creating a program this semester with the child life specialist, Olivia, at the Tallahassee Memorial Hospital called Adopt-A-Patient. Throughout this program, each Florida State athletic team will adopt a patient for one full year. These patients have a wide range of diagnoses, but the hope is for the athletic team to take the patient's mind off of whatever is going on health-wise in their life. On the other hand, each athletic team gets a sense of perspective and how lucky the players are to get the opportunity to play the sport they love as healthy individuals. As you can see, I now have a full plate this semester.
Although I was definitely not ready to start my last college semester, I was extremely excited to be back with my softball sisters after the long break. Over break, we each had an accountability partner on the team to make sure we were still putting in our work either in the weight room and on the field even though we were all in different places with our families. To show each other and our coaching staff the work we put in, we ran our conditioning test as a team during the first week of classes.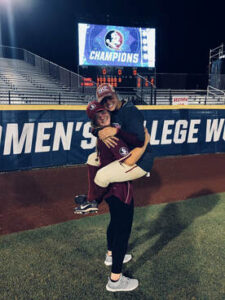 This conditioning was very close to my heart because it is the LAST one that I will ever have to run in my life (so not sad about it). To end the week, the seniors held a team practice since the coaches aren't allowed to be on the field yet. It was awesome to get everyone together and toss the ball around. I am very proud of Team 36 and the work that everyone put in over break. I cannot wait to get back out on the field next week for team practice and get this season started!​
Hope you enjoyed reading my blog. If you have any questions, please feel free to comment below and I will do my best answering them at the end on my next blog. Thanks again for reading! 🙂