Pictured above: Mike, Kaitlin, Meghan and Karen King, Diane Hall
Hello everyone! I hope y'all enjoyed my opening blog post! It has been an eventful two/three weeks here in Tallahassee! FSU softball held their very first ever Fan Day on February 2! It was so exciting to get out there and play in front of all of the old and new FSU softball fans! We even had FSU's very own (my bestie/mentor) Jessica Burroughs come back and pitch to a few batters. Although I loved getting a chance to play with her again, I don't think the hitters who faced her appreciated it as much as I did ;).
We also had a huge turnout at our annual Kick Off Dinner. The most special/emotional moment of the evening was when the seniors handed down their jerseys to the freshman. While handing them down, we each talked about how much the Seminole family means to us and that we should respect our jersey and University with the upmost pride. It got pretty emotional and before we all started sobbing up there, we wrapped it up with a quick picture. All in all, it was a great weekend and I am proud to see how much this program has grown over the last five years.We kicked off our 2019 season with the JoAnne Graf Classic. This tournament was named after the previous FSU softball coach, JoAnne Graf. Coach Graf paved the way for the future FSU softball players. Over her 30-year career with Seminole softball, she made the transition from slow-pitch softball to fast-pitch softball winning over 75 percent of her games as head coach! Coach Graf is a rock star and I am beyond lucky to speak with her several times throughout my career at Florida State. The tournament hosted UNC Wilmington, UNCG, and Iowa State. As a squad, we performed very well throughout the weekend! It was awesome to get back out on the field and shake off the offseason rust! I am extremely excited for our next set of games in Clearwater, Florida as we face three top-ten teams along with another three dominant teams in their respective conferences.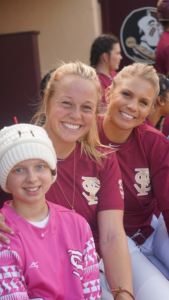 FSU softball also adopted a young girl from the Friends of Jaclyn Foundation. Hayden Stone is an 11 year-old battling rhabdomyosarcoma. Hayden loves elephants and her favorite food is doughnuts. Her brother Harrison is eight-years-old and loves slime. Hayden's dad is the pastor and her mom is the worship leader at a local church in Tallahassee. Her and her family instantly clicked with the entire team and we are beyond lucky to call them part of our family. Hayden got the chance to throw the first pitch of Fan Day and she slung in it there for a strike! She also was able to kick her weekly treatment's butt and watch FOUR games with us during opening weekend! She even joined the bullpen for their dance parties when the Seminoles put a run on the scoreboard.
As for my personal life, it has been a crazy two/three weeks. I turned 23. Wow. I know that is not very old in the normal lifespan of things, but still being in college playing softball I definitely feel like a grandma around my younger Seminole sisters. I can now relate to Maddie O'Brien, Jessica Burroughs, and the rest of the redshirt seniors that have made their marks on the program. I also completed my CNA (certified nursing assistant) program and took my state exam. I passed woohoo!!! Therefore, I am going to try and pick up a shift or two in the Children's Center at Tallahassee Memorial Hospital and continue to grow my knowledge in pediatrics.
---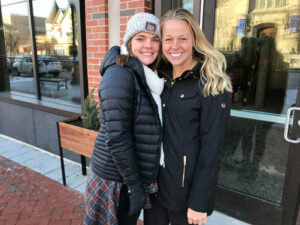 I also had the chance to go surprise my best friend, Gwen Svekis, in Indiana! She was previously Oregon's starting catcher but graduated last year. She is now the graduate assistant for University of Indiana. Although it was VERY cold, I had the best time exploring Indiana and watching her be able to share her passion for the game in a different outlet. Finally, after an amazing offseason I said goodbye to my boyfriend as he left for Spring Training with the Pirates! I am beyond excited to say that this will be our LAST few months of long-distance after the past three years! Whoop Whoop!
I know I mentioned in my last blog post that if you had any questions about me or my post to comment below! Last week, someone asked me what does the term "redshirt senior" mean. A redshirt senior is an athlete in their fifth year of academics, but their fourth and final year of eligibility of competition. When I was a freshman, my coaches decided that it was in my best interest, as well as the program's, for me to redshirt my freshman year. Therefore, I would not dress out or play any game during my first year of college. Although it took a while for me to accept the fact that I wasn't going to be able to suit up and play with the rest of my teammates, I definitely needed a year of maturity. Along with maturity, I also needed the year to grow my knowledge of the game and build strength in the weight room. I am unbelievably lucky that my coaches believed in me enough to give me the opportunity to redshirt my freshman year.
Coming soon…. St.Pete/Clearwater Elite Invitational; John Hopkins All Children's Visit; First midweek game of the season; Unconquered Invitational